Instigate CJSC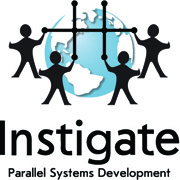 Mr. Arman Poghosyan, CEO
58/1 K. Ulnetsi St., 0069 Yerevan, Armenia
Phone (Armenia):
+ 374 10 24 84 11
Phone (USA):
+ 1 408 454 6172
Phone (Germany):
+ 49 893 8157 1771
Fax: + 374 10 24 29 19
Email: info@instigatedesign.com

Instigate CJSC is an engineering company with hardware and software teams based in Yerevan, Gyumri, Vanadzor and Stepanakert.

There are company representatives in USA and Europe. The company was founded on July 6, 2005. Currently more than 80 engineers work for Instigate CJSC.
Instigate is specialized in Electronic System Level design and modeling, EDA software design, software acceleration and parallel programming, using modern technologies such as AMD/NUMA and NVIDIA/CUDA. The company offers embedded SW and OS development, distributed computing, programming of massive-parallel reconfigurable devices.
The company is collaborating with US and European customers. Instigate CJSC quality management system was certified according to ISO 9001:2008 standard.
Instigate CJSC provides the following services:

Electronic design automation
Development of bit/clock-accurate simulators and GUI IDEs for a specific device
Design and implementation of proprietary ESL design environment
Development of compilers for an embedded CPU
Electronic system design
Implementation of a complete SoC
IP blocks design using EDA tools
Development of large designs used for validation of an FPGA platform
Development of Embedded Linux on the modeled CPU
SW acceleration and parallelization
NUMA specific optimizations for multi-core systems
Acceleration using NVIDIA and ATI GPGPU cards
Quality Assurance
White-box and black-box QA of various software tools
Validation of HW Fabric and EDA tools/flows
Audio/Video coding and multimedia
Design and implementation of Mpeg2, H.263, Mpeg4, H.264, H.265, VC-1, AVS codecs
Offering Subsidiary Creation

Setting up a company, recruiting the personnel, training, management, IP protection, transferring the ownership.

Training center

"Instigate Training Center" Foundation was launched in March, 2008. It runs training courses on programming and digital circuit design. The courses include extended programs both for beginners and for professionals. The lecturers are the lead engineers and senior programmers of Instigate.