Flexible Applications CJSC
Mr. Davit Grigoryan, Director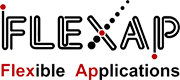 2 Arshakunyats Ave., 4th floor, room #411, Yerevan 0023, Armenia
Phone: +374 10 52 17 75 (ext. 400),
+ 374 60 50 17 75, +374 99 09 44 15
Email: info@flexap.am

Flexible Applications CJSC is an Armenian-American IT company, which is highly specialized in the custom software and web development, especially in the design and development of Management Information Systems for business sector.Company mainly provides following services:
Software Development
Web Applications Development
IT Consulting
Flexible Applications was founded with the support of its partner and shareholder Time Masters Inc., which is a US-based firm providing time and attendance systems and products for businesses all over the world for more than 17 years.
The partnership between Time Masters and Flexible Applications started from the development of Time Masters' Employee Attendance Management System. Currently Flexible Applications is the exclusive reseller of Time Masters' all software and hardware products in Armenia. Hardware products include fingerprint readers, card readers, hand readers, face readers, turnstiles, electromagnetic locks, etc. Besides selling, Flexible Applications also provides Attendance Management System on-site installation and support services to Armenian businesses.