Apaga Technologies CJSC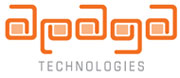 Mr. Michel Davoudian,Director
Head Office: 83 Ghorghanyan st., 3105 Gyumri, Armenia
Yerevan Office: 16/3 Abovyan st., 6th floor, 0001 Yerevan, RA
Fax: + 374 10 56 35 94
E-mail : info@apaga.am

Apaga Technologies was founded in 2007 and offers a wide range of IT services in three fields:
Information Security: Auditing, IT Security Consulting, Engineering, Network design, installation and Security as well as a set of carefully selected hardware and software solutions.
Full range of SSL and Code Signing Certificates (Verisign-Symantec), Digital Signatures, PKI; OTP authentication solutions using hardware and software tokens (Cryprocard) to secure and protect identities and all forms of online data transactions.
Network and information security solutions such as Security Gateways; SSL VPN Secure Access Gateways; UTM Firewalls; Web Access and Content Filtering Systems; Email Security Platforms with Anti-Spam, Anti-Virus and Data Loss Prevention Systems; Intrusion Detection/Prevention Systems; Network Vulnerability Scanners.
New generation payment systems with our partner M2M group for multi-channel secure e-transaction processing solutions, electronic payment, fidelity programs as well as HR management systems.
Internet Service Provider
Representing Ozone Europe providing secure and reliable high-speed Internet access in Yerevan as well as regions for both home users and corporate organisations for witch secured Virtual Private Networks can be activated. Educational programs are also provided in remote areas.
Representing Broadcast Industry Leaders: Grass Valley, NewTek, Thomson–Broadcast, Thomson Video Networks, Atomos, VSN, providing digital broadcast system solutions for the professionals.
Video Conferencing (Visual Nexus), Digital signage (Easescreen), dedicated services, consulting, design and system integration in complex projects.